As I get ready to fly out to San Diego Comic Con (come over and say hi! It's San Diego Convention Center, Small Press area, the Clockwork Watch Films table: O-08) I realised you probably never got the chance to read my write-up from last year. It was originally for Geek Syndicate, but the lack of Wi-Fi put paid to that. So it'll be interesting to see if the below observations hold true for 2015…
This wasn't what we planned.
The idea was to create a video blog to give you some 'floor show' experience from the madness that is San Diego Comic-Con. However, a painful lack of Wi-Fi/data pretty much drop-kicked that into oblivion. Sorry. So, after the fact, here are a handful of observations and random notes from our wacky trip…
In case it wasn't entirely obvious, SDCC is not cheap. A small press table costs $400 (next year it will be $500) and flights to San Diego from the UK typically cost around £800 to £1,100. Then you have to think about accommodation (your best bet is to try AirBnB or a campground), transport (get somewhere within 15 minutes walk to reduce expenditure – it's California, so generally people drive everywhere, meaning hotel and parking prices drop dramatically even within walking distance), printing and shipping costs etc.
In relation to the above, if you come to SDCC looking for mega sales, then dial back those expectations unless you want to go home brutally demoralised. Virtually everyone we spoke to said last year's sales were higher than this year's, even though the days were almost equally busy (even the usually timid Sunday was full of people). The sad fact is, most of the attendees are coming to SDCC to see their favourite movie/TV stars in Hall H or buy exclusive toys/comics. Small press is incidental, and we'd hazard a guess that around less than 5% of the 130,000+ attending fans are even slightly interested in seeing anything which they're not already aware of. In short, SDCC is a money-pit.
So why should small press attend? Simply put: audience reach, contacts and networking. There's a reason why the small press area is among the friendliest places in the show (along with Artists' Alley), as creators swap contact details, help each other out and generally widen each other's pool of resources, as well as form friendships. Further to that, press and professionals – in both the movies/TV and comic book sphere – are very welcoming to the small press whenever they get time to engage with them. You get the chance to meet and talk with retailers, journalists and creators who you may not ordinarily catch at another convention, and in turn there's a greater chance of you selling to people you may not otherwise reach. On top of that, everyone is aware of Comic-Con and respects it, even if they don't necessarily have a deep interest in attending. Using that brand recognition when selling your books during the year is remarkably effective.
Unlike last year, where MTV's Teen Wolf hosted free, if unreliable, Wi-Fi, this year there was a noticeable absence of anyone willing to provide such a service. Which only left the official convention Wi-Fi as your main option. $80 for the day, sound good? What about $150 for a few days? No? Nope.
For all the talk as to whether a female Thor is a good thing or not, there was a wonderful number of cosplayers dressing as this new thunder god. Taking in mind that in previous cons we've rarely seen female Thors (Lokis, the occasional Sif and Valkyrie were more likely), it shows that – on a surface level at least – it was a savvy and well received move by Marvel.
The idea of being drawn into a comic book remains a great pull, as we discovered with

Vampire Boogie

(we offered the chance to become a character in the mini-series if you purchased a physical copy). However, it didn't come without its own irony. The first person to buy a copy was sold on the pitch of a youthful vampire using social media to save her undead life, however she admitted she didn't own a Facebook account or actually like social media. Go figure.
The steampunk community is growing at a fantastic pace, with many more 'steamers' dressing the part. In turn, our steampunk series

Clockwork Watch

was very well received, even to a point where a young grandmother ditched her husband at the end of Sunday to come back in and buy a virtually sold out copy of Tick Tock IPA #2. Bless her.
Despite the launch of a blockbuster movie there were surprisingly few Guardians of the Galaxy cosplayers, barring the odd (but exceptional) Rocket Raccoons. If we're not flooded with Star Lords, Gamoras and Draxs this time next year, we'll eat our toy Groot.
Jimmy Aquino

is both a scholar and a gentleman, being wonderfully helpful on many fronts. And he carries good bourbon in his hip flask. Very good bourbon.
Line producer and talented photographer

Nicci Freeman

made a few stops by our table, dressed as a magnificent steampunk style Mad Hatter-White Rabbit. Among the many great stories she told us, a standout was how she observed a couple engaging in a full-blown argument outside the convention centre. Upon seeing the couple, a man dressed as a demon wandered up to them and suddenly burst into a stirring verse of

Let It Go, the lead song from Disney's Frozen

. Naturally, the couple were too stunned to continue their fight. Comic-Con summed up in one, mad moment, ladies and gentlemen.
There are few things as rewarding as saying hi to someone who was going to walk by your table, and then one 60-second pitch later they buy a copy of your book.
Conversely, there are few things as crushing as someone coming to your table of their own accord, you giving them a 5 minute pitch/question and answer session and them not saying a single word to you in response.
No one can ever deny Hall H attendees aren't dedicated. After we staggered out of a hotel from a post 2.30am drink up, we were stunned to see a massive queue of sleeping people wrapping around a quarter of the convention centre. Tents, sleeping bags, foil wraps… these people came prepared.
We may complain that not enough kids read or are interested comics, but the large number of families all cosplaying together or just attending the convention with their wide-eyed, kids was heart-warming.
Back from the brink/being buried under work…
First of all! A massive thanks to everyone who has purchased a copy of Magic of Myths: Faerie – it's been a huge success and our most popular book to date.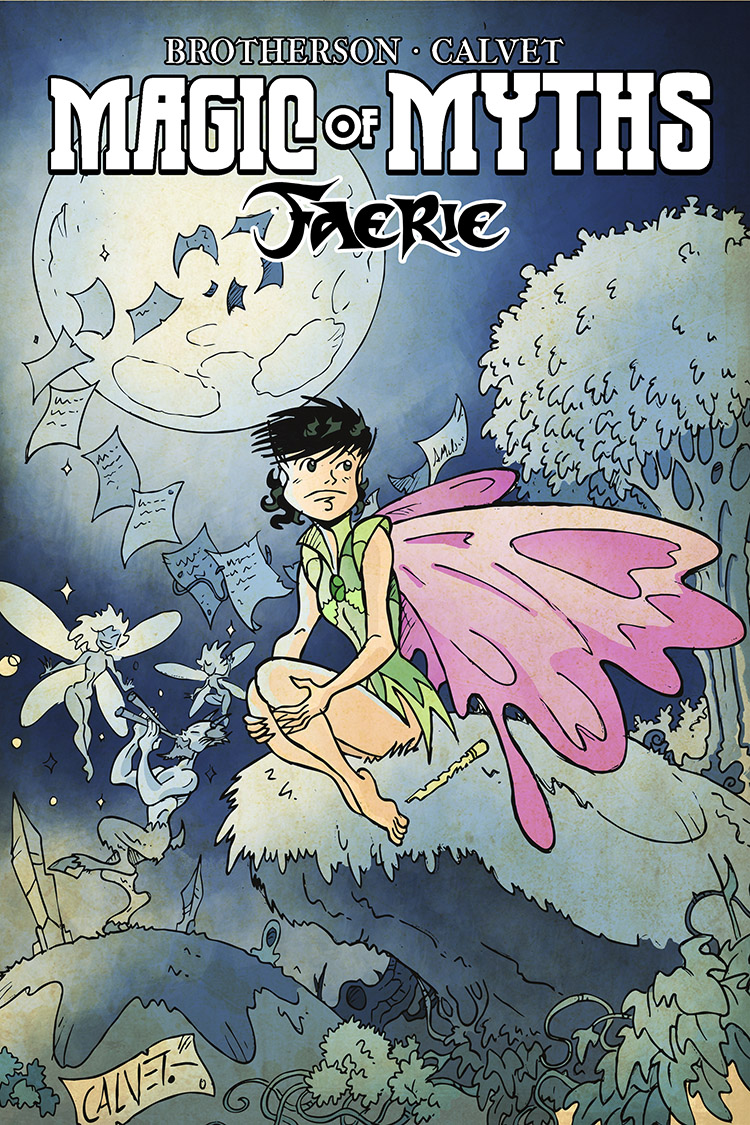 You can now buy a copy of Magic of Myths: Faerie right now via our mail order links below.
Magic of Myths: Faerie consists of:
The main story (21 pages) and the following extras:
Two pin-ups (with some of the artwork you've seen on this very site) by Magic of Myths artist, Sergio Calvet
The full script
Review snippets:
"The end result is a beautiful book, one that honours its subject matter and provides a perfect on ramp to the larger story being told. Corey and Sergio are two of the best creators in the industry and this is some of their best work. Pick it up, and the rest of Magic of Myths, and find out just how good they are." – Travelling Man

"I loved it… I smiled broadly at Calvet and Corey's interpretation of Shakespeare's Puck as a feisty forthwright feminist – her appearance too is very unique and refreshing – not conforming to usual stereotypical ideas of a what a female hero should look like." – Elf Lyons
"We have Corey Brotherson's writing style to be grateful of again; he has the ability to quickly bring characters to life and balance the persona building with the action. We also have Sergio Calvert's cartoonist meets graphic design skills. His is also an unique style that's rather beyond my ability to describe; somehow invoking traditional four colour art with the subtlety and textures of detailed pieces." – Geek Native
"Overall? It's a very solid entry into the Magic of Myths series, serving well as an entry point for new fans while also holding a lot of appeal for those already invested." – Geek Pride
Read a two-page preview here: http://magicofmyths.com/2015/03/20/read-a-two-page-preview-of-magic-of-myths-faerie/

Buy Magic of Myths: Faerie by clicking here: http://gum.co/sjfk or email magicofmyths@gmail.com
After seeing Marvel unleash the
Ant-Man teaser trailer
(which was slightly underwhelming), I thought it would be a good idea to look into why its teaser poster works so much better in capturing the public's imagination, while using very little.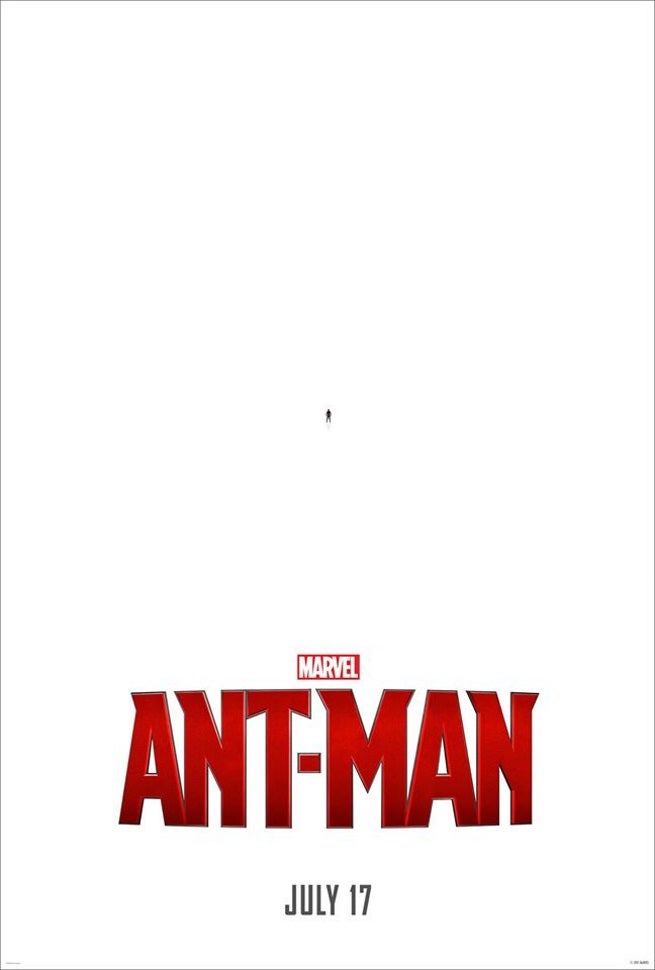 Hey, remember that movie poster with the heads staring out into a collage of elements from the story?
Of course you do, because I've just described a large majority of movie posters. There's a certain style which works, because it's expected and visually recognisable. That will come later.
This teaser poster works exceptionally well because:
– It uses negative space to its advantage (draws your eye to the main character title and date).
– It stands out due to that same use of negative space (as a comic book writer I have to think about how a book teaser looks and also how the actual book stands on the shelf, and thus spine design is important to stand out. With movie posters it's similar; imagine a corridor of movies posters – usually you'll get a similar colour palette for most: greys, browns, generally dark colours, unless it's a kids movie). Put this one in a theatre and watch it pop out thanks to a stark use of white and red.
– It uses the central concept to create visual humour, which is important to the movie itself.
You'll remember this teaser poster because it's a concept driven poster. The main one will be much more standard, but by then more people will be familiar with the movie. For comic book fans, Ant Man is a known character. For 80 to 90% of people outside of us, this may as well be a totally new IP. You have to make people smile and remember, which is what this poster does.
I think it's easy to underestimate the thought that goes into posters like these. Yes, sometimes they write and design themselves, but generally they take a lot of time to make sure they hit the right chords – deliver a message, concept and stand out. Sadly, the teaser trailer's rather 'by the numbers' style kinda undoes this a tad (almost trying to recreate the humourous beats and style of the far more successful Guardians of the Galaxy teaser trailer, sans any distinguishing sense of directorial style) – but there's hope that Ant-Man will be far better than it's expected to be since Edgar Wright's departure.
Hope 2015 is treating you well so far, even at this early stage.
After a couple months of hiatus due to various and difficult personal and professional circumstances, I'm hoping to get a bit more back on track this year, if possible. First, with a blog title change, as you can see. The past few months in particular have certainly felt like a rites of passage – for better and for worse – and while this title change is only temporary (as I hope these rites of passage are), hopefully it can represent a step in the right direction and the chance to emerge stronger.
Both Vampire Boogie and Magic of Myths: Faerie are coming together nicely, with both books due to launch sometime around June/July 2015, latest. Clockwork Watch: Tick Tock #3 is also due around the same time, meaning it's going to be a busy year, and hopefully a productive one. Much of 2014 was laying the groundwork for these three titles, which has sometimes been exhausting, but it's good to see them nearing their various stages of completion.
In the meantime, you can get a taste of each, one way or another:
Vampire Boogie – 3-page sample: http://vampireboogie.files.wordpress.com/2014/07/vampire-boogie-small-preview.pdf

Magic of Myths: Faerie – early pencils preview: http://magicofmyths.com/2014/12/31/new-year-new-and-first-magic-of-myths-faerie-artwork/
Clockwork Watch: Tick Tock #2 (in preparation for #3) – on sale at ComiXology: https://www.comixology.co.uk/Clockwork-Watch-Vol-4-Tick-Tock-IPA-2/digital-comic/164950


Lock your doors…
The vampires are coming to town… soon…
Artwork from the brilliant and talented James Daniels for a behind-the-scenes comic book project… shhh, we'll talk about it later in the year…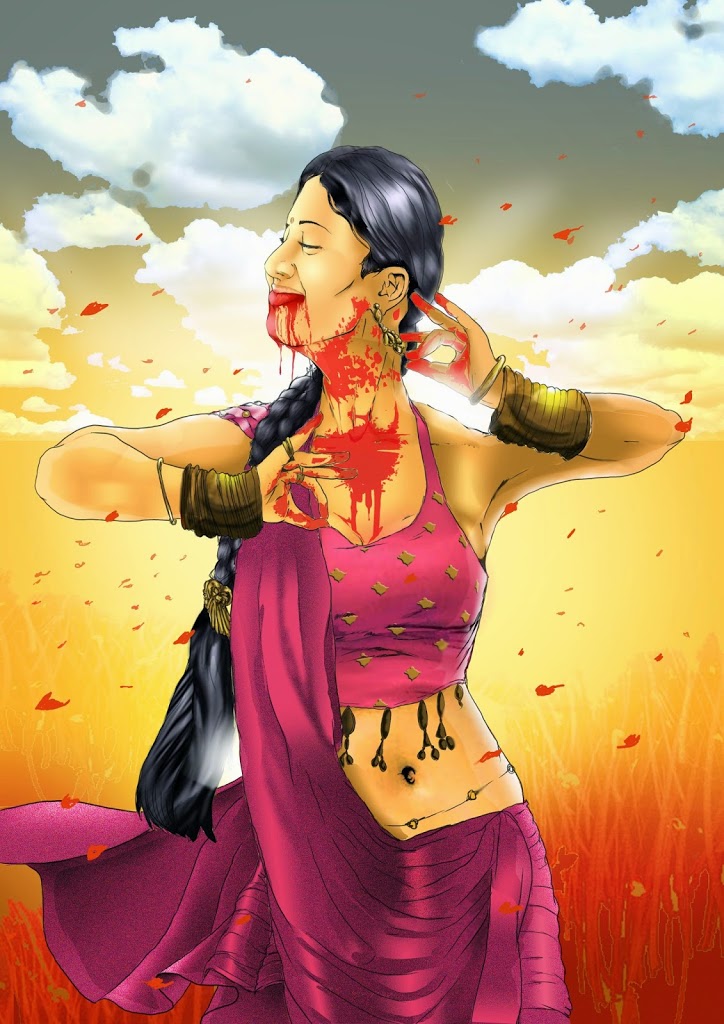 As Etta James might sing….
"At laaaaaaaaast…"




So, in-between writing Magic of Myths: season two, Clockwork Watch: Breakaway and other bits and bobs, I've been secretly working on another project which I'd been signed up to. A secret project I can finally talk about in the open.
Say hi to Dead Roots.
The site describes it as:
"… a bumper-sized zombie comic anthology, published quarterly throughout 2013. Dead Roots brings together top talent from the worlds of TV, animation, film, comics and games to provide an anthology of stories based in the initial outbreak of a zombie outbreak. The anthology focuses on the emotional state and experiences of everyday people and their journeys, as they search to find their loved ones in the apocalyptic setting of a zombie outbreak!"
Dead Roots has picked up some sterling reviews, and I'm pleased to say I'm contributing a short story towards it called 'Black, White and Red (All Over)'.

Dead Roots' editor and chief, Mike Garley invited me to pitch a story to him last year, and after missing the mark with my first pitch, my second idea struck a chord. So after I put the script together earlier this year, he teamed me up with the talented Andy W Clift (artist) and Mike Stock (letterer) and after a few months of hard work, the results are ready to go. A quick panel preview for you…
You can see this page preview on the site with the other stories in Dead Roots by visiting www.deadroots.co.uk/stories/.
I'll have news on when the next Dead Roots is available to download but you can buy the current editions here: www.deadroots.co.uk/the-app/.
I'm also working on several other secret projects… but I'll talk about those in the coming months…